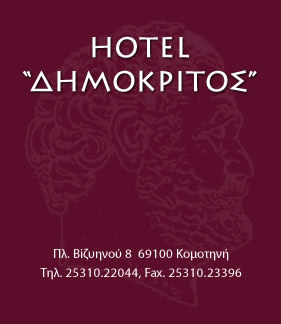 On-Line Reservation Form
Please Choose your arrival and departure date
HISTORY
The Hotel "Demokritos" is situated in the center of the city of Komotini. Built in 1967 originally as a two-storey building and then in 1974 took the final Four-dimension.
At the time of construction in place of the old hotel was the Balkans, near the old City Hall, opposite the park of Agia Paraskevi and east of the site of Scouting. Today, around the square Vizyinos breathes new upscale precinct of Holy Friday with dozens of fountains, east of the Town Hall in postmodern style and the west Central Square and the famous monument of the city (the Sword) is the central position of Komotini.
The ground floor of the hotel opened the first cafe in Komotini and often refer to the hotel known from the television series, novel "Do not tell me goodbye" .